Schedule G (Form 990-EZ or Form 990)
SUPPLEMENTAL INFORMATION REGARDING FUNDRAISING OR GAMING ACTIVITIES
File Your Form 990/990-EZ and get Schedule G for FREE with ExpressTaxExempt
Back To 990-EZ Schedules
Schedule G is used to report professional fundraising services, fundraising events, and gaming.
Who must file Schedule G?
An organization that answered "Yes" to Form 990, Part IV, Checklist of Required Schedules, line 17, 18, or 19, or meets the criteria for Form 990-EZ filers described below, must complete the appropriate parts of Schedule G (Form 990 or 990-EZ) and attach Schedule G to Form 990 or Form 990-EZ.
What are fundraising events?
Fundraising events are activities meant to get potential donors to contribute money, securities, services, materials, facilities, other assets, or time. They include:
Publicizing and conducting fundraising campaigns.
Maintaining donor mailing lists.
Conducting fundraising events.
Preparing and distributing fundraising manuals, instructions, and other materials.
Professional fund-raising services.
Conducting other activities involved with soliciting contributions from individuals, foundations, governments, and others.
Fund-raising activities do not include gaming, the conduct of any trade or business that is regularly carried on, or activities substantially related to the accomplishment of the organization's exempt purpose (other than by raising funds).
What are gaming activities?
The term gaming includes bingo, beano, raffles, lotteries, pull-tabs, scratch-offs, pari-mutuel betting, Calcutta wagering, pickle jars, punchboards, tip boards, tip jars, certain video games, and other games of chance. Most forms of gaming, if regularly carried on, result in unrelated business income (UBI) and the income may be taxable.
Supported Forms
Exclusive Features
IRS Authorized
Unlimited Filing
Schedules are auto-generated for FREE
Copy Data from Prior Year Return
Bulk upload templates
Internal Audit Check
Invite members to Review & Approve Forms
Get the Right Worksheet
Retransmit rejected return for FREE
Supports Amended Return
Supports 990 Extension
US Based Support
Exempt ORG Forms
ExpressTaxExempt
APP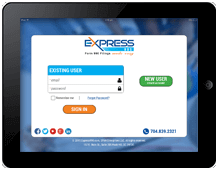 File your 990-N from anytime, anywhere
Download the App for IOS and Android Tablet Devices
ExpressTaxExempt for
MOBILE
Just access from your mobile and start filing IRS Form 990-N.