Schedule F (Form 990)
STATEMENT OF ACTIVITIES OUTSIDE THE UNITED STATES
File Your Form 990 and get Schedule F for FREE with ExpressTaxExempt
Back To 990 Schedules
Schedule F is used by an organization that files Form 990 to provide information on its activities conducted outside the United States by the organization at any time during the tax year. Activities conducted outside the United States include grants and other assistance, program-related investments, fundraising activities, unrelated trade or business, program services, investments, or maintaining offices, employees, or agents for the purpose of conducting any such activities in regions outside the United States.
Who must file Schedule F?
An organization that answered "Yes" to Form 990, part IV, Checklist of required Schedules, line 14b, 15, or 16, must complete the appropriate parts of Schedule F (Form 990) and attach Schedule F (Form 990) to Form 990.
Activities Outside the United States
All organizations must report on activites outside of the United States and must denote on the 990 revenues or expenses more than $10,00 or if the organization has foreign investments that are valued at $100,000 or more.
What is Grantmakers?
A grantmaker is an charitable organization that awards funds to an organization or individual to undertake charitable activities.
Grants and Other Assistance to Organizations or Entities Outside the United States
If an organization answered "Yes" on Form 990, part IV, line 15. This means the organization reported on Form 990, Part IX, Statement of Functional Expenses, column (A), line 3, more that $5,000 of grants and other assistance to any particular foreign organization or entity (including a foreign government) or to a domestic organization or domestic individual for the purpose of providing grants or other assistance to a designated foreign organization or organizations.
Grants and Assistance
All organizations must report any grants provided or assistance to organizations or entities inside the United States.
Foreign Forms
IRS Form 926(h)

Form 926 (U.S. Transferor of Property to a Foreign Corporation) is to report certain transfer of tangible or intangible property to a foreign corporation required by section 6038B.

IRS Form 3520 and Form 3520-A

Form 3520 (Annual Return to Report Transactions with Foreign Trusts and Receipt of Certain Foreign Gifts) is for U.S. Persons (and executors of estates of U.S. Decedents) file this form to report certain transactions with foreign trust, ownership of foreign trusts under the rules of sections 671 through 579, and receipt of certain large gifts or bequests from foreign persons. A separate Form 3520 must be filed for transactions with each foreign trust. Form 3520-A (Annual Information Return of Foreign Trust with a U.S. Owner) is the annual information return of a foreign trust with that at least on U.S. owner. The form provides information about the foreign trust, its U.S. Beneficiaries, and any U.S. person who is treated as an owner of any portion of the foreign trust.

IRS Form 5471

Form 5471 (Information Return of U.S. Person With Respect to Certain Foreign Corporations) is used by certain U.S. citizens and residents who are officers, directors, or shareholders of certain foreign corporation. The form and schedules are used to satisfy the reporting requirements of sections 6038 and 6046, and the related regulations. Generally, all U.S. person described in the Categories of Filers must complete the schedules, statements, and/or other information requested.

IRS Form 8621

Form 8621 (Information Return by a Shareholder of a Passive Foreign Investment Company or Qualified Electing Fund) and Form 8621-A (Return by a Shareholder making Certain late Elections to End Treatment as a passive Foreign Investment Company) are specialized reporting forms for foreign investment companies and Qualified Electing Funds (QEF).

IRS Form 8865

Section 501(c)(6) of the Internal Revenue Code provides for the exemption of business leagues, chambers of commerce, real estate boards, boards of trade and professional football leagues, which are not organized for profit and no part of the net earnings of which inures to the benefit of any private shareholder or individual.

Form 5768

Form 5768, Election/Revocation of Election by an Eligible Section 501(c)(3) Organization To Make Expenditures To Influence Legislation, is a form reporting activities defined by section 501(h) of the Internal Revenue Code. It signifies to the IRS that a section 501(c)(3) organization is electing to have or is revoking their election to have lobbying expenditures.

Form 1120-POL

Form 1120-POL, U.S. Income Tax Return for Certain Political Organizations, is for political organizations and certain exempt organizations to report their political organization taxable income and income tax liability under section 527.

Form 4720

Form 8865 (Return of U.S. Persons with Respect to Certain Foreign Partnerships) is used to report the information required under section 6028 (reporting with respect to controlled foreign partnerships), section 6038B (reporting of transfers to foreign partnerships), or section 6046A (reporting of acquisitions, dispositions, and changes in foreign partnership interests). A U.S. person qualifying under one or more of the Categories of Filers must complete and file Form 8865. If you qualify under more than one category for a particular foreign partnership, you must submit all items required for each category under which you qualify.

IRS Form 5713

Form 5713 (International Boycott Report) is to report operations in or related to boycotting countries (a boycotting country is any country that is on the Descretary of the Treasury under section 999(a)(2), in addition to Kuwait, Lebanon, Libya, Qatar, Saudi Arabia, Syria, United Arab Emirates, and the Republic of Yemen), or with the government, a company, or a national of a boycotting country.
Supported Forms
Exclusive Features
IRS Authorized
Unlimited Filing
Schedules are auto-generated for FREE
Copy Data from Prior Year Return
Bulk upload templates
Internal Audit Check
Invite members to Review & Approve Forms
Get the Right Worksheet
Retransmit rejected return for FREE
Supports Amended Return
Supports 990 Extension
US Based Support
Exempt ORG Forms
ExpressTaxExempt
APP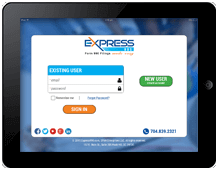 File your 990-N from anytime, anywhere
Download the App for IOS and Android Tablet Devices
ExpressTaxExempt for
MOBILE
Just access from your mobile and start filing IRS Form 990-N.