Select a tax form from the Form 990 series, 1120-POL, or
Extension Form 8868 and Start Filing
Form 990-PF

Return of Private Foundation

Form 990-PF is filed by Exempt & Taxable Private Foundations and also by Non-exempt Charitable Trusts which the IRS treats as private foundations.

Start Now

Form 1120-POL

Political Organization Returns

Form 1120-POL is typically filed by Political Organizations and certain Tax-Exempt Organizations with taxable income remaining after taking the $100 special deduction for the taxable year.

Start Now


ExpressTaxExempt & GuideStar
ExpressTaxExempt is excited to announce that we have proudly partnered with GuideStar, the world's largest source of nonprofit organization information.
ExpressTaxExempt users now have the ability to create an auto-generated, free, organization profile on GuideStar.com during the e-filing process. Learn More
Why ExpressTaxExempt?
Step-by-Step Process
You will be guided through our system by helpful prompts from start to finish.
Market Leader
Our e-filing service is used by nearly 5000 non-profit organizations to file their returns.
Trusted Company
ExpressTaxExempt works closely with the IRS to offer a safe, secure, and accurate filing experience.
US based Support
Contact our U.S. - based support team of live, e-file professionals for questions or help with the e-filing process
Download the Form 990-N Mobile App
Now you can file 990-N on-the-go!

Download the 990-N mobile app on your iOS or Android device and start e-filing your 990-N return for the current tax year.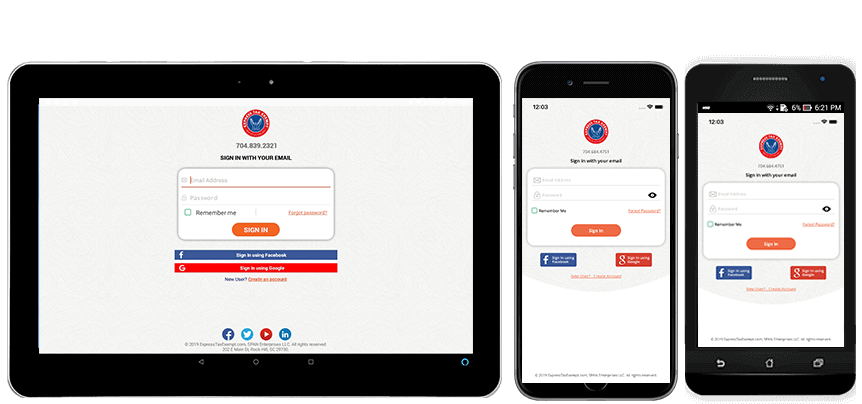 See What People Are Saying About ExpressTaxExempt
Best provider in the IRS recommended provider list!

Patti A
Recommending this to all my subordinate members.

Shirley W
Easy to use, and I appreciate the fair pricing for our non-profit.

Debbie P
First time and all good. Excellent in every way. Thank you!

Margaret Hayes
Very easy and quick. Reasonable price too. Thank You!

Phyllis Foley
So much easier than logging into the IRS directly. Thank you!

CHERYL D
A Lot Better Than Dealing With The IRS Directly.

Tom Gard
Love it. Save me a ton of aggravation!

George Gilmore