Schedule J (Form 990)
COMPENSATION INFORMATION
File Your Form 990 and get Schedule J for FREE with ExpressTaxExempt
Back To 990 Schedules
Schedule J is used by an organization that files Form 990 to report compensation information for certain officers, directors, individual trustees, key employees, and highest compensated employees, and information on certain compensation practices of the organization.
Who must file Schedule J?
An organization that answered "yes" on Form 990, part IV, line 23, must complete Schedule J. Do not file Schedule J for institutional trustees.
What is the conditions for filing schedule J?
The conditions for filing Schedule J are if your organization answered "yes" on Form 990, Part IV, line 23. If you answered "No" on Form 990, then you are not required to complete Schedule J.
Report compensation for the calendar year ending with or within the organization's tax year paid to or earned by the following individuals:
(a) Each of the organization's former officers, former directors, former trustees, former key employees, and former fiver highest compensated employees listed on Form 990, Part VII, Section A.
(b) Each of the organization's current officers, directors, trustees, key employees, and give highest compensated employees for whom the sum of Form 990, Part VII, Section A, columns (D), (E), and (F) (disregarding any decreases in the actuarial value of defined benefit plans) is greater than $150,000.
(c) Each of the organization's current and former officers, directors, trustees, key employees, and five highest compensated employees who received or accrued compensation from any unrelated organization or individual for services rendered to the filing organization, as reported on line 5 of Form 990, part VII, Section A. List in part III the name of each unrelated organization that provided compensation to such persons, the type and amount of compensation it paid or accrued, and the person receiving or accruing such compensation.
What is filing organization compensation?
A filing organization compensation is the compensation of employees who meet the compensation requirement for the organization that is filing the Form 990.
What is related organization compensation
Related organization generally means a parent, subsidiary, brother or sister organization under common control, a sponsoring organization of or contributing employer to a voluntary employee beneficiary association (VEBA), or a section 509(a)(3) supporting or supported organization of the filing organization. An organization need not list individuals who are officers, directors, trustees, key employees or the five highest compensated employees of a related organization. Once a person is required to be listed on Part VII, Section, however, compensation paid by a related organization to such person generally must be reported in part VII if it equals or exceeds $10,00 from that organization.
What is Retirement and other deferred compensation?
A supplemental non qualified retirement plan is a non qualified retirement plan that is not generally available to all employees but is available only to a certain class or classes of management or highly compensated employees.
Supported Forms
Exclusive Features
IRS Authorized
Unlimited Filing
Schedules are auto-generated for FREE
Copy Data from Prior Year Return
Bulk upload templates
Internal Audit Check
Invite members to Review & Approve Forms
Get the Right Worksheet
Retransmit rejected return for FREE
Supports Amended Return
Supports 990 Extension
US Based Support
Exempt ORG Forms
ExpressTaxExempt
APP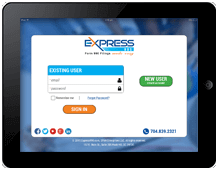 File your 990-N from anytime, anywhere
Download the App for IOS and Android Tablet Devices
ExpressTaxExempt for
MOBILE
Just access from your mobile and start filing IRS Form 990-N.