Schedule M (Form 990)
NONCASH CONTRIBUTIONS
File Your Form 990 and get Schedule M for FREE with ExpressTaxExempt
Back To 990 Schedules
Schedule M for Form 990 is used by an organization to report the types of noncash contributions received during the year by the organization and certain information regarding such contributions. The schedule requires reporting of the quantity and the reported financial statement amount of noncash contributions received by type of property. Report noncash donated items even if sold immediately after received. Do not report noncash contributions received by the organization ni a prior year. Do not report donations of services or the donated use of facilities, equipment, or materials donated.
Who must file Schedule M?
An organization that answered "Yes" to Form 990, Part IV, line 29 or 30, must complete Schedule M.
Organizations that reported more than $25,000 of aggregate non cash contribution, or that during the year received contribution of art, historical treasures, or other similar assets, or qualified conservation contribution, regardless of whether it reported any revenues for such contributions
Qualified conservation contributions
A qualified conservation contribution is the contribution of a qualified real property interest to a qualified organization exclusively for conversation purposes. To eligible for a deduction under this section, the conservation purpose must be protected in perpetuity.
Form 8283
Form 8283 Noncash Charitable Contributions, is to report charitable donations of $500 by individuals and corporations.
Supported Forms
Exclusive Features
IRS Authorized
Unlimited Filing
Schedules are auto-generated for FREE
Copy Data from Prior Year Return
Bulk upload templates
Internal Audit Check
Invite members to Review & Approve Forms
Get the Right Worksheet
Retransmit rejected return for FREE
Supports Amended Return
Supports 990 Extension
US Based Support
Exempt ORG Forms
ExpressTaxExempt
APP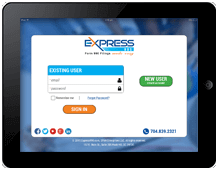 File your 990-N from anytime, anywhere
Download the App for IOS and Android Tablet Devices
ExpressTaxExempt for
MOBILE
Just access from your mobile and start filing IRS Form 990-N.