Schedule H (Form 990)
HOSPITALS
File Your Form 990 and get Schedule H for FREE with ExpressTaxExempt
Back To 990 Schedules
Hospital organizations use Schedule H (Form 990) to provide information on the activities and policies of, and community benefit provided by, its hospital facilities and other non-hospital health care facilities that it operated during the tax year. This includes facilities operated either directly or through disregarded entities or joint ventures.
The organization must file a single Schedule H (Form990) that combines information from:
Hospital facilities directly operated by the organization.
Hospital facilities operated by disregarded entities of which the organization is the sole member.
Other health care facilities and programs of the hospital organization or any of the entities described in 1 or 2, even if provided separately from the hospital's license.
Hospital facilities and other health care facilities and programs operated by any joint venture treated as a partnership, to the extent of the hospital organization's proportionate share of the joint venture.
Organizations are not to report information from hospitals located outside of the United States in Parts I, II, III, or V. Information from foreign joint ventures and partnerships must be reported in Part IV, Management Companies and Joint Ventures. Information concerning foreign hospitals and facilities can be described in Part VI.
Supported Forms
Exclusive Features
IRS Authorized
Unlimited Filing
Schedules are auto-generated for FREE
Copy Data from Prior Year Return
Bulk upload templates
Internal Audit Check
Invite members to Review & Approve Forms
Get the Right Worksheet
Retransmit rejected return for FREE
Supports Amended Return
Supports 990 Extension
US Based Support
Exempt ORG Forms
ExpressTaxExempt
APP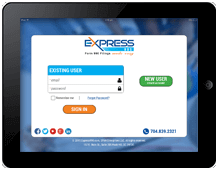 File your 990-N from anytime, anywhere
Download the App for IOS and Android Tablet Devices
ExpressTaxExempt for
MOBILE
Just access from your mobile and start filing IRS Form 990-N.