What Nonprofits need to know about IRS Form 990
In this article we will cover the following points: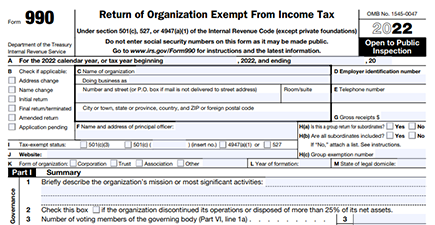 An Overview of IRS Form 990
- Updated August 08, 2022 - 2.00 PM Admin, ExpressTaxExempt
IRS Form 990 is an informational tax form that most Nonprofits and tax-exempt organizations must file annually. Usually, organizations with 501(c)(3) status are exempt from paying taxes, and it doesn't mean they are exempt from reporting their organization activities to the IRS.
Nonprofits must file a Form 990 to maintain their exempt status. With the information provided on Form 990, the IRS ensures that such organizations qualify for tax exemption status.
Nonprofit Organizations must make the Form 990 return available to the public. With the information available in the public domain, it makes it easier for donors to locate and evaluate the best charities to make donations and provide financial assistance.
1.

What is IRS Form 990?

Form 990 is an annual information return filed by tax-exempt organizations to provide the information required by Section 6033.

Eventually, Nonprofit Form 990 reports:
Organization's exempt and other activities,
Financial activities, governance,
Compliance with certain federal tax filings and requirements, and
Compensation paid to certain persons
Additional schedules are required to be attached with the form depending upon the activities and type of the organization.
2.

Who must file IRS Form 990?

Tax-exempt organizations, nonexempt charitable trusts, and section 527 political organizations with gross receipts higher than or equal to $200,000 and total assets higher than or equal to $500,000 must file Form 990.
Alternatives to Form 990
Other 990 Forms are filed by Nonprofits and Tax Exempt Organizations:
Form 990-N

should be filed by the Organizations with gross receipts less than $ 50,000

Form 990-EZ

should be filed by Organizations with gross receipts less than $ 200,000 and total assets less than $ 500,000.

Form 990-PF

should be filed by all Private foundations and non-exempt charitable trusts regardless of gross receipts
Exempt organizations that file Form 990, 990-EZ , or 990-PF and have a gross income of $1,000 or more from unrelated businesses for the tax year must file Form 990-T.
3.

What's New for 2021 Tax Year?

IRS requires Section 501(c)(21) trusts to File Form 990 (or submit Form 990-N, if eligible) instead of Form 990-BL to meet their annual filing obligations under section 6033.

Some section 501(c)(21) trusts may also be required to file Form 6069, Return of Certain Excise Taxes on Mine Operators, Black Lung Trusts, and Other Persons Under Sections 4951, 4952, and 4953.
4.

When is the deadline to file Nonprofit tax Form 990?

Nonprofits and exempt organizations must file the 990 by the 15th day of the 5th month after the end of the accounting period.

If your organization operates under a Calendar Tax Year (which means the tax year ends on December 31), you must file Form 990 on or before May 16, 2022. If you extended your Form 990 deadline by filing extension Form 8868, the Form 990 is due by November 15, 2022.

Are you operating in the Fiscal Tax Year? Find your Form 990 due date here by clicking https://www.expresstaxexempt.com/form-990-due-date-finder/.
Never miss your 990 deadline!
File on time every time with ExpressTaxExempt to maintain your tax-exempt status. Get timely updates on IRS changes and deadline reminders from ExpressTaxExempt.
5.

How to file IRS Form 990?

The IRS mandates the filing of Form 990 Electronically. By E-filing, the IRS can process your 990 returns quicker, and you will get to know the status of your form instantly. E-file Now!

Simply follow the steps below to file your Form 990:
Step 1:

Create a free ExpressTaxExempt account or Login If you have one already

Step 2:

Provide Form Information through our direct form entry or interview style process

Step 3:

Send the Form to your organization's authorized members to review and approve it

Step 4:

E-file it with the IRS
6.

What are the Components of Form 990?

The following are the sections to be filed in Form 990:
Revenue, Expenses, and Changes in Net Assets or Fund Balances
Checklist of Required Schedules
Statements Regarding Other IRS Filings and Tax Compliance
Balance Sheets
Statement of Program Service Accomplishments
List of Officers, Directors, Trustees, and Key Employees
Other Information
Statement of Revenue
Financial Statements and Reporting
Statement of Functional Expenses
Reconciliation of Net Assets
Section 501(c)(3) Organizations
Visit https://www.expresstaxexempt.com/form-990/form-990-instructions/ for line-by-line instructions to complete Form 990.
7.

Any additional requirements in filing the Nonprofit Tax Form 990?

Nonprofits and Tax-Exempt Organizations must provide additional information through the various Schedules.

Missing to attach the required schedules may result in IRS penalties due to incorrect filing.

There are 16 Schedules in total available for Form 990 that may need to be attached based on particular organizational activities.
Schedule A -

Public Charity Status and Public Support

Schedule B -

Schedule of Contributors

Schedule C -

Political Campaign and Lobbying Activities

Schedule D -

Supplemental Financial Statements

Schedule E -

Schools

Schedule F -

Statement of Activities Outside the United States

Schedule G -

Supplemental Information Regarding Fundraising or Gaming Activities

Schedule H -

Hospitals

Schedule I -

Grants and Other Assistance to Organizations, Governments, and Individuals in the U.S

Schedule J -

Compensation Information

Schedule K -

Supplemental Information on Tax-Exempt Bonds

Schedule L -

Transactions with Interested Persons

Schedule M -

Noncash Contributions

Schedule N -

Liquidation, Termination, Dissolution, or Significant
Disposition of Assets

Schedule 0 -

Supplemental Information to Form 990

Schedule R -

Related Organizations and Unrelated Partnerships
To know more about Form 990 schedules, visit,
https://www.expresstaxexempt.com/form-990-schedules/.
8.

How to file an extension for IRS Form 990?

Nonprofits and Tax-Exempt Organizations can extend the 990 filing deadline by
filing the extension Form 8868 that provides an automatic 6-month extension.

The IRS requires no explanation to file tax extension Form 8868, and any request for extension will be approved.
9.

What are Nonprofits not required to file Form 990?

The following organizations are not required to meet the form 990 filing requirements
Certain religious organizations such as a church and religious schools
Certain governmental organizations, and
Certain political organizations
Click here to know more about the organizations exempt from filing Form 990.
However, the organization can voluntarily file Form 990 to the IRS to make its financial activities public.
10.

What is the penalty for late filing of Nonprofit Form 990?

The IRS penalizes nonprofits and Tax-Exempt Organizations for late filing unless they have a proper reason for the delay.

The penalty applies each day after the due date of the return until it is filed.

The penalty would be $20 a day, not to exceed the lesser of $10,500 or 5% of the organization's gross receipts for the year.

Nonprofits and Tax-Exempt Organizations with annual gross receipts exceeding $1,094,500 are subject to a penalty of $105 each day (with a maximum penalty of $54,500 for a return).
Penalty for filing Form 990 with incorrect Information
If the organization doesn't meet the following conditions, the IRS will send the organization a letter 2694C that includes a fixed time to fulfill these requirements.
Complete all applicable line items
Unless mentioned to skip a line, answer each question on the return
Make an entry (including a zero when appropriate) on all lines requiring an amount or other information to be reported and
Provide required explanations as mentioned on the Form
If the organization still not meet the requirements after the period expires, the person failing to comply will be charged a penalty of $10 a day. The maximum penalty on all persons for failures for any one return shall not exceed $5,000.
11.

Tips to avoid common errors when filing Form 990

You must be aware of these common errors that can be avoided while preparing & filing your Form 990 with the IRS
Make sure that you are filing the current version of Form 990 for your tax period
Double check your EIN, Tax Period, and Group Exemption Number (GEN).
Make sure you have provided your organization's correct Internal Revenue Code Subsection as indicated in your determination letter.
Form 990 is incomplete without a valid signature of the organization's officer in Part II, Signature Block.
Do not include any personal information in your form 990, as the form will be made publicly available by the IRS
12.

Automatic revocation of tax-exempt status

If the Organization does not file Form 990 for three consecutive years, the IRS will revoke its tax-exempt status automatically. An automatic revocation is effective on the original filing due date of the third annual return.

If an organization's tax-exempt status is automatically revoked, you must file any one of the following federal business income tax returns and pay applicable income taxes:
Form 1120, U.S. Corporation Income Tax Return
Form 1041, U.S. Income Tax Return for Estates and Trusts
If you are looking to reinstate your tax exempt status after automatic revocation, visit irs.gov to learn more.
---