Automatic Revocation of Tax-Exempt Status
Obviously there is a penalty for the organizations which fails to file and if an organization fails to file for three (3) consecutive years will have its tax-exempt status revoked.
When an organization loses its tax-exempt status, it may no longer requried to file any of the Form 990 series and it must begin filing as a taxable organization with the IRS. Any taxes owed by the organization from that period on may be subject to fees and penalties.
In the event you believe that your tax-exempt status has been revoked, you should contact the IRS immediately to determine if your status has actually been revoked and to determine what steps you will need to take to re-apply for tax-exempt status.
How will I know if my organization's tax exempt status was revoked?
The IRS publishes a list of organizations that have had their federal tax-exempt status revoked for failing to file an annual information return or notice with the IRS for three consecutive years (Auto- Revocation List).
The Auto-Revocation List provides the organization's name, employer identification number (EIN), exemption type, last known address, effective date of revocation and the date the organization's name was posted on IRS.gov.
Publication of an organization's name on the Auto-Revocation List serves as notice to donors and others that the organization is no longer eligible to receive tax-deductible contributions under section 170 and that donors and others may not rely on an IRS determination letter dated before the effective date of revocation or on a prior listing in either Exempt Organizations Select Check (Pub. 78 data) or the IRS Business Master File extract for purposes of claiming tax-deductible contributions. Because the list is an official IRS record of organizations that lost their exempt status for failing to file for three consecutive years, an organization whose exempt status is reinstated remains on the list.
Exempt organizations status was automatically revoked due to error
If you think that your tax-exempt status was revoked in error, contact IRS Consumer Account Services by calling (877) 829-5500.
Resource Links:
To avoid losing your tax-exempt status, e-file with ExpressTaxExempt
Support Center
ExpressTaxExempt
APP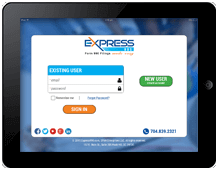 File your 990-N from anytime, anywhere
Download the App for IOS and Android Tablet Devices
ExpressTaxExempt for
MOBILE
Just access from your mobile and start filing IRS Form 990-N.