To be considered tax-exempt under section 501(c)(3) of the Internal Revenue Code, an organization must be organized and operated exclusively for exempt purposes, and none of its earnings may benefit directly any private shareholder or individual. In addition, it may not be an action organization, i.e., it may not attempt to influence legislation as a substantial part of its activities and it may not participate in any campaign activity for or against political candidates.
If a 501(c)(3) organization engages in an excess benefit transaction with a person having substantial influence over the organization, an excise tax may be imposed on the person and any organization managers agreeing to the transaction.
Public Charities and Private Foundation
After filing a Form 1023 for tax-exempt status, an organization becomes a section 501(c)(3) tax-exempt organization. From here, the organization takes one of two paths: public charity or private foundation. Based on the function of the organization and its reason for filing for tax-exempt status, the IRS will determine which group the organization belongs in. The biggest change will be which Form 990 needs to be filed. A public charity may file Form 990, 990-EZ, or 990-N, the e-Postcard. A private foundation must file Form 990-PF. It is very important that an organization is certain of its status before filing.
Supporting Organizations
A supporting organization is a charity that carries out its exempt purposes by supporting other exempt organizations, usually other public charities. This classification is important because it is one means by which a charity can avoid classification as a private foundation, which typically has a more restrictive regulatory process. A supporting organization generally warrants public charity status because it has a relationship with its supported organization sufficient to ensure that the supported organization is effectively supervising or paying particular attention to the operations of the supporting organization.
Explain about form 1023 & form 1024?
Forms 1023 and 1024 are applications for organizations to gain tax-exempt status. Form 1023 is reserved exclusively for section 501(c)(3) tax-exempt organizations. Form 1024 is for all other section 501(c) organizations. The filer must submit either of these forms with the necessary registration fee. The IRS will then process the form and either accept or reject it. Should the organization need to file between submitting the form and its acceptance, it will need to set up a temporary account by calling the IRS Customer Account Services at (877) 829-5500.
Support Center
ExpressTaxExempt
APP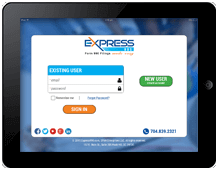 File your 990-N from anytime, anywhere
Download the App for IOS and Android Tablet Devices
ExpressTaxExempt for
MOBILE
Just access from your mobile and start filing IRS Form 990-N.