IRS Form 1023
Application For Recognition Of Exemption
The IRS Form 1023 is categorized as the Application for Recognition of Exemption under Section 501(c)(3) of the Internal Revenue Code. To obtain recognition of exemption from the federal income tax under IRS Code Section 501(c)(3), eligible organizations or nonprofits are required to file Form 1023.
Purpose of IRS Form 1023
You can acquire 501(c)(3) tax exemption by filing IRS Form 1023.
There are two key requirements for an organization to be exempt from federal income tax under section 501(c)(3). A 501(c)(3) organization must be:
Organized as a corporation, trust, or an unincorporated association, with its organization document defining the organization's purpose(s). The organization must also permanently dedicate its assets to exempt purposes, and
Operated to further one or more of the exempt purposes stated in its organization document.
Organizations with exemption status under section 501(c)(3) are commonly referred to as charitable organizations. Organizations described in section 501(c)(3), outside of organizations testing for public safety, are eligible to receive tax-deductible contributions in accordance with Code section 170.
Organizations that are organized and operated exclusively for religious, charitable, scientific, public safety, literary, or educational purposes, as well as organizations that foster national or international amateur sports competitions, or that prevent cruelty to children/animals can file Form 1023.
Organizations eligible to file IRS Form 1023
Organizations that are eligible to file Form 1023 for recognition of exemption under section 501(c)(3) of the Internal Revenue Code are churches, schools, colleges, universities, hospitals or medical research organizations, as well as Section 509(a) supporting organizations, organizations that do not file Form 1023 within 27 months of formation, homes for the elderly or handicapped, low-income housing organizations, a successor to other organizations, or an organization providing scholarships, fellowships, educational loans, or other educational grants to individuals and private foundations requesting approval of individual grant procedures.
Completed Form 1023 required for section 501(C)(3) exemption
All applicants, unless otherwise noted, must complete Parts I through XI of Form 1023, plus any required schedules and attachments.
Other organizations that may file Form 1023
According to section 501(c)(3), there are several other types of organizations that are eligible to apply for tax-exempt status. These include organizations categorized as section 501(e) and (f) cooperative service organizations, section 501(k) child care organizations, and section 501(n) charitable risk pools.
Support Center
ExpressTaxExempt
APP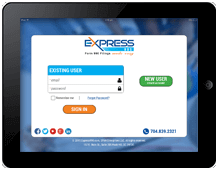 File your 990-N from anytime, anywhere
Download the App for IOS and Android Tablet Devices
ExpressTaxExempt for
MOBILE
Just access from your mobile and start filing IRS Form 990-N.